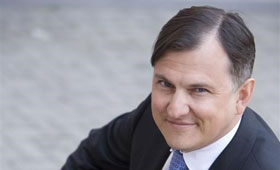 Ask our legal expert!
Gencs Valters
Claim your FREE copy
Doing Business Guide in the Baltics.
Real Estate Guide 2016: Real estate purchase agreement in Lithuania
Part 1
This real estate guide gives an overview introduction to the key requirements when buying or selling real estate in Lithuania. This article is not a complete guide as long as each particular property has its own popularities in legal regulation. When you deal with purchasing of real estate it is always recommended to consult a lawyer in order to avoid possible inconveniences. GENCS VALTERS Law Firm offers clients the full range of legal services.
Form of the real estate Contract
A sale-purchase agreement is used to convey the ownership rights of real estate in Lithuania. A real estate sale-purchase agreement must be certified by a notary, except instances when contract is concluded in bankruptcy proceedings. Failure to notarize an agreement makes it null and void. Notarization of the sales agreement usually takes up to 2 days.

Subject matter of the Contract
The sale-purchase agreement of real estate contains information relating to real estate which the seller is bound under the contract to transfer to the buyer, also indication of its location, the price. If this information is not presented in the agreement, no notarial certification will occur and the contract itself will be invalid. There are certain instruments used for transfer of the title to real estate: exchange agreement, donation agreement, and transfer of real estate as a non-pecuniary contribution into the share capital of a company. Land, residential houses, apartments, and other immovable things are the subjects of the sale- purchase agreement of real property. Before signing the sale-purchase agreement the buyer should visit the object and check its actual conditions. After the examination of the object Buyer has to perform the following:
To find out of the Seller's property rights or authorization rights to perform the sale of the real property.
Find out whether the property is registered in the Real Estate register; are there registered any encumbrances or other lien marks; is the land plot on which property is built is formed and registered;
Find out if the property is property of the spouses; has the Seller got the consent of the other spouse to alienate the property; find out of the pre-emption rights.
Review the Inventory file,
Find out whether the Seller does not have debts for apartment utilities, taxes and other services.
It takes on average 3-19 days to complete the three procedures needed to register a property in Lithuania.

To be continued.
For more information regarding the sale or purchase of real estate in Lithuania, please contact our English speaking attorneys at law and tax consultants to info@gencs.eu.
T: +370 52 611 000
F: +370 52 611 100